Aug 10, 2008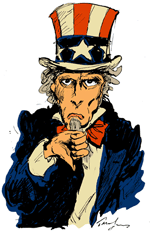 What are the consequences of arrogantly bullying one's way into a unilateral, pre-emptive, unjustified, and hopeless conflict, then stubbornly pursuing it for six years against the wishes of the international community and even of one's own citizens?

Among the serious consequences is the sorry fact that the U.S. finds itself becoming the Rodney Dangerfield of international relations. With our enormous military might stalemated year after year by disorganized gangs of ill-equipped street thugs, our credibility, our integrity, and our influence have steadily dissipated, not to the least degree among the very countries most affected by our present misadventure.

In a report entitled "The New Arab Diplomacy: Not With the U.S. and Not Against the U.S.," by Marina Ottaway and Mohammed Herzallah, the Carnegie Endowment for International Peace draws the following dispiriting conclusions:
In general, a growing web of diplomatic initiatives and contacts is being spun throughout the Gulf and the Levant, and the United States is not part of it ... The hard-line, confrontational policy the United States has embraced under the Bush administration has inadvertently demonstrated the limits of U.S. power ... The rejection of diplomacy has thus reduced the United States to a condition of self-inflicted powerlessness regarding many problems. The vacuum is being filled in part by U.S. adversaries—Iran, Syria, HAMAS, and Hizbollah—and in part by friendly Arab regimes, which seek to find a way forward in situations where U.S. policy has contributed to stalemate ... In this new regional diplomacy, Saudi Arabia has emerged as a major player while Egypt has sidelined itself in the waning years of the Mubarak regime, turning inward while it waits for the succession—and possibly a succession crisis—to unfold ... [M]ost Gulf countries and even Egypt no longer believe the Bush administration can contribute to solutions because of its unwillingness to talk to and negotiate with all sides and to help forge compromises ... the United States now has little leverage over the policies of even friendly countries....
A sorry legacy for the next administration to confront.