Aug 12, 2008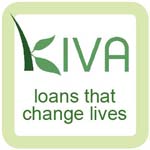 Kiva is an organization that manages a web site for soliciting donations from "social investors" to third-world entrepreneurs, and funnels those donations to the microfinance institutions (MFIs) which disburse the funds and receive the payments back from the entrepreneurs. Kiva's mission is "to connect people through lending for the sake of alleviating poverty." They currently list 101 MFIs, which they call "Field Partners," on their site.

The site is full of information regarding donors and the individuals seeking loans to start or support small, often family-run, businesses, and Kiva makes it easy for donors to find and fund entrepreneurs they wish to support. The extent of activity on the site is made clear by statistics Kiva provides. In one recent week, $631,600 was lent out; 1,479 entrepreneurs were funded; 2,766 new "lenders" joined Kiva; 8,295 "lenders" made a loan; and 555 loans were repaid. Though not as world-shattering as one might hope, this level of activity is nonetheless admirable. We have been a member of Kiva, and regular donor, since April 2007.

We use the word "donor" and put the word "lender" in quotation marks because that is one of the problems with Kiva. Those of us whom Kiva calls "lenders" aren't, because lenders expect a return on their loan and we don't get one. If a borrower pays back a loan which we helped with (and a remarkably high number—99.7 percent to date—do), all we get is the amount of our contribution back, which we are then encouraged to contribute to someone else. This, of course, is contrary to the point of making loans, which is to risk capital in the expectation of improving upon it. The MFIs receive the interest on the loans—the average rate, according to Kiva, is 21 percent—but the lenders do not (nor does Kiva). Furthermore, our donations are not tax-deductible. We therefore become what Kiva calls "social investors," people who support this initiative for altruistic motives.

This fact is not made very clear on Kiva, another problem with the site. The "About Lending" section of the Help Center doesn't mention it, and one would expect it would be there. It is found toward the bottom of the "How Kiva Works" section, where, in answer to the question, "Do I get interest on my loan?," Kiva simply says by way of explanation, "No, loans made through Kiva's website do not earn any interest ... Providing interest to our lenders is legally complex. However, we may provide this option in the future in accordance with U.S. law and regulations." We hope they do, and soon. The repayment rate is high enough to make these extremely attractive investments, and we would increase ours in Kiva severalfold if we had the opportunity to earn as much as we could get on a 12-month CD.

Although Kiva claims it "will not partner with an organization that charges exorbitant interest rates," 21 percent (as an average rate) seems high to us. It does to Mohammad Yunus as well. He is the man who made micro-lending famous (and won a Nobel Prize for it). He has been quoted as saying that MFIs should charge for the cost of borrowing funds plus 10 to 15 percent for operating expenses. His Grameen Bank charges 20 percent interest to borrowers.1 That's problem #2.

Problem #3 is more intractable. Many borrowers on Kiva are women, and many lenders, acknowledging the dismal, often criminal, treatment of women around the world in general and in the countries Kiva serves in particular, are careful to select female entrepreneurs for their donations. Unfortunately, as we have discovered (Kiva is admirably frank about disclosing borrowers' stories as they become known to them), the female borrowers are often no more than "fronts" for a male behind the scenes (often a husband or other family member) who actually receives the funds and uses them for purposes other than the stated ones.

Kiva has attempted to gloss over this fact. In a private correspondence in late June 2008, a Kiva Customer Service Manager made the following argument to me regarding this situation:
"It's important to note that many microfinance institutions will not lend to men, per their mission, and, in instances where women participate in the family business, women will often act as the business manager and point of contact for loans to fund family businesses that they receive through their local MFI. In this capacity they are the ones who complete the loan applications, have the funds disbursed to them, make scheduled repayments, and otherwise administer the loan. Far from a position of indignity, this gives the women in the family significant power over the family business and a level of participation that some may not ordinarily have. It also helps them to establish relationships with their MFI so that, if they so choose, down the road they can take out a loan to start their own independent business."
We will quote our response to this in some detail, followed by my conclusions:
I ... discover from your response to my query that such arrangements are common—the woman applies for the loan and is the figurehead recipient, but the funds go directly to the husband. And this is because many MFI[s] will not lend to men! Logic worthy of Lewis Carroll, and a cynical Lewis Carroll at that. And, of course, the people you are relying upon to provide the capital for these loans are not informed of this arrangement.

I want to reiterate a point I made, and a point which I believe many of your [field] partners—who loan only to women—are trying to make: This world is ruled—badly—by men. Women are routinely exploited, oppressed, beaten, raped, and killed by men, and with impunity. Microfinance provides a way out for these women, a means to procure some independence, self-esteem, and empowerment. Many of us believe that liberating and empowering the world's women provides one possible means of saving a world which is otherwise lost. If our support of these women is to be undermined by deceptive advertising, whether initiated by Kiva or your [field] partners, then we may need to take our money, our hopes, and our ideals elsewhere.

A rather extreme position, you will probably say. And no doubt there are many instances where the woman plays the part you describe in your note and does, indeed, win a measure of respect, value, and independence in playing that part. I suspect there are many more instances, however, where she is simply being used by the males in her family and, in these instances, so are we and, I would think, so is Kiva.

I admire the operation you have put together, and the beauty, comprehensiveness, and utility of your web site. I even admire the frankness which is evident in much of the informational material on the site. However, the problem at issue is not a trivial one, and I am sincerely sorry to say your response has not adequately addressed it.
HOWEVER,
let me conclude with the following:
We will continue to support Kiva, to make new loans with the money we have invested to date as our outstanding loans get paid off, and to consider a significant increase in our investment in Kiva if and when they begin to pay interest to investors.
And we encourage you to do the same.
Warts and all, Kiva is still an admirable service and one which we believe is key to lifting the one billion of the world's people who live in dire poverty into self-sufficiency and a decent life.
And raising that tide will lift us all.
____________________
1
"On Microfinance and Microcredit Investment,"
by Greg Casey, on microcapital.org (Accessed August 3, 2008)
Jun 03, 2008

The World Bank isn't among our favorite organizations, but they released a report on microfinance last month, and since we'll be talking more about this subject in future posts, I decided to note it.

Among the report's most important conclusions is that microfinance—small business loans to mostly poor, mostly third world, mostly female borrowers—is actually an effective and successful program, whether pursued by non-profit or for-profit institutions.

They take a few expected shots at microfinance ("the evidence lags far behind some of the rhetoric on the potential for microfinance to reduce poverty") and opine that microfinance will never be an attractive investment for those for whom maximizing profit is the first or only consideration.

But isn't that the point? Isn't that what we have to get away from in this world? Not the concept of profit (though there are those who would disagree with me on that), but of maximizing profit at any cost—to human beings, to the environment, to the future. It simply doesn't work anymore. And, in retrospect, it ought never to have been condoned as a legitimate feature of capitalism in the first place.
tags: Microfinance