News
Taking the Sales Out of Your Wind
Feb 08, 2009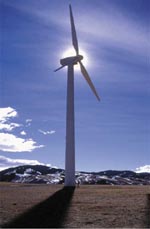 In 2008, we blew away all previous records in new wind power infrastructure installation. Our national wind power generating capacity swelled by 50 percent, with 8,358 megawatts of new generating capacity installed. That is enough to power over 2 million homes and makes wind power one of the leading sources of new power generation in the country today. The new installations channeled $17 billion into the economy. Jobs in the wind industry are up by 70 percent in the last year, from 50,000 to 85,000, many in the wind turbine manufacturing industry, which we have been slow to get into, letting our European friends get an early jump on us. Our share of domestically manufactured wind turbine components finally reached 50 percent in 2008.

This according to the American Wind Energy Association in their January 27, 2009, press release, Wind Energy Grows by Record 8,300 MW in 2008. But don't break out the champagne yet.

Toward the end of last year, new turbine orders slowed to a trickle and if the Obama stimulus doesn't happen soon, and bolster the tax credits and subsidies for this nascent industry, we could be in for some serious backsliding. Wind power is clean and renewable, and it has already provided a significant boost to our manufacturing and job creation capacities. It is an essential part of both our short-term and long-term recovery plans. Momentum such as it has enjoyed in the last year cannot be allowed to stall. Write your congressional delegation and tell them to make sure there is a high wind in the stimulus package.
tags: Wind
Blow Wind, and Crack Your Cheeks!
Jul 17, 2008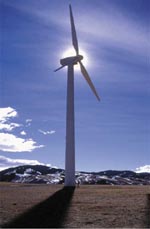 Wind power currently provides a meager 1% of U.S. electricity needs. The U.S. Department of Energy would like to see that number increase to 20% by 2030. The Congressional Research Service (CRS), a legislative branch agency within the Library of Congress, has released a report entitled Wind Power in the United States: Technology, Economic, and Policy Issues.

The CRS is a non-partisan research service that produces reports for members of Congress and their committees. Their reports are not automatically made available to the public, and there is some controversy over whether they should be and, if so, through what venue. The CRS spends $100 million of taxpayer money each year enlightening Congress, and some of those taxpayers believe they are entitled to a peek at the non-classified results. At present, the reports come to us through a variety of individuals and services, including (to name but two) OpenCRS, a project of the Center for Democracy & Technology, and the Federation of American Scientists through their Secrecy News Blog or at their page dedicated to CRS reports.

The 53-page report is a good starting point for understanding where we have been, where we are, and where we are going with wind power. The essential challenge of the technology involves the capture, storage, and distribution of the electricity produced, though various other issues—aesthetic, economic, and political— also provide tough nuts to crack on the way to making wind a significant contributor to our enormous electricity needs. However, it's not a question of if but of when it will do so, and now is a good time to get a working knowledge of the issues involved.
tags: Wind
Well, Blow Me Down!
Jun 06, 2008


Here Comes Wind Power. In a report released by the Department of Energy and the Lawrence Berkeley National Laboratory, "wind projects accounted for 35 percent of all new electricity-generating capacity added in the U.S. in 2007, and more than 200 GW (gigawatts, or billion watts) of wind power are in various stages of development throughout the country."
tags: Wind