Apr 29, 2009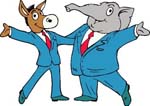 The Sunlight Foundation is a non-profit, non-partisan organization with the mission of using the Internet to make information about Congress and the federal government more meaningfully accessible to us. See Party Time and Fifty-State Project. Follow them on Twitter.

They have just awarded prizes in their first Apps for American Government Mashup Contest and the winners are pretty cool. (A "mashup," by the way, is a procedure that combines web-based resources to provide additional, new, or value-added services.)
Filibusters are the bugaboo of the current Senate, since 60 votes are required to impose a time limit on a debate (cloture) and get on with the vote, and the forces mostly favoring Obama's agenda currently have only 58 votes, 59 if Al Franken ever gets seated. This site aggregates information from GovTrack.us and Sunlight Labs, another service of the Sunlight Foundation, to bring us news of fresh filibustering, naming the senators who are bottlenecking legislation. Visit the site for updates and to read their blog or, more conveniently, follow them on Twitter.


This project was created specially for the contest by Forum One Communications, and aggregates data from Twitter, YouTube, Capitol Words (another Sunlight Foundation project), and hundreds of news sources. Click a button to see the latest Tweets and uploaded YouTube videos generated by U.S. legislators, or news items regarding them. Set up your own ""Stalk List" to zero in on the legislators you want to follow.


A somewhat bewildering site, ostensibly created to serve congressional delegations. Each senator and representative has their own page where they and their staff can request research, search a briefing room of over 2000 documents and talking points, and track the priorities of their constituents. Constituents, meanwhile, sign up at something called White House 2, where they can endorse or oppose various policies. Their positions are then aggregated for their legislators on the legislators' Hello, Congress, pages. Clever! And some interesting numbers, which lead one to believe the site has been peopled, so far, by the usual suspects: hotheads and ideologues. If the general public eventually embrace it, it could become a useful tool for our legislators.


Get web savvy fast and impress your friends. KTC is an implementation of bookmarklets, handy little bits of code that can automate all sorts of things inside your Web browser. The KTC bookmarklet will look up useful information regarding legislators when you come across their name on a web page. Simply highlight the name, click the KTC bookmarklet (which the site will show you how to easily install), and voilá, you will see a handy insert providing a raft of useful and juicy data on the legislator (including their primary donors). Use it with some regularity, and you will find yourself learning a lot about our gang in Washington.


Whereas KTC was a snap to install (a quick drag-and-drop), Yeas and Nays, a mashup that allows you to call one of your congressional representatives from any web page, requires a bit more dedication. You need the Firefox browser (definitely worth the switch from Internet Explorer), then you will install Greasemonkey, a Firefox add-in that allows you to run what are called user scripts, one of which is Yeas and Nays from ShiftSpace. The Yeas and Nays link takes you through these steps quite painlessly. Once installed, the little applet allows you to call your congressional rep from any web page (as well as providing a number of other web page add-on capabilities), provides talking points to help you express your opinion regarding the issue at hand, and, at your option, will record your call and make it available to other visitors to that page (who have ShiftSpace installed). Web Two Point Wow!


Subtitled "Watch over your representatives," e-Paper Trail provides a three-way look at Congressional activity. "Bills and Resolutions" graphically displays Democratic/Republican splits on recent House and Senate votes, and shows how your representatives and senators voted. "From the Floor" provides recent statements/speeches presented by your congressional representatives. "Head to Head" compares the voting history of any two House members of your choice. Text alerts are available for your mobile phone. These old eyes wonder, however, why the designers of this web site decided on such light, thin headline and body text.
These mashups illustrate how far and how fast Internet web site development is progressing. Combined, they provide quick and timely access to the D.C. goings-on that so vitally affect our interests. Kudos to Sunlight Foundation for sponsoring this contest, and to all the participants.
Sep 06, 2008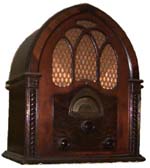 Is the Mainstream Media (MSM) finished? Has consolidation and the bean counters taken us past the point of no return?
Item: Before that staunch Democrat Bill Clinton signed the Telecommunications Act of 1996, conservative Clear Channel owned the maximum number of radio stations allowed: 40. Afterwards, at their peak, they owned nearly 1,200.1
Item: Twenty-five years ago, 50 corporations controlled the vast majority of the MSM (newspapers, radio, and television). In 2004, that number was down to five.2
Item: The number of foreign correspondents, during a period when we desperately needed to know more about the world, dropped from 188 in 2002 to 141 in 2006. Major newspapers such as the Boston Globe and Baltimore Sun have closed all their foreign bureaus.3
Item: The administration, as part of what we have termed its Exit Strategy, has proposed cuts to funding for public broadcasting—the most trusted institution among the MSM—4that would slash 56 percent of their annual budget.5
Common Cause,
in their recent report,
6
identified significant problems with MSM today, including:
Consolidation
Failure to serve local interests
The assault on public broadcasting support
Attacks on Net Neutrality
An FCC deaf to the voice of the public
Flawed transition to digital television
Though on page 2 the reports asserts, "The media cannot play its role effectively unless it is independent from government influence," we have to wonder whether the opposite is not more the case today. Whether or not the media has undue influence over the government or not, it will require government influence to fix the problems with media.
Newspapers may be purely private endeavors; the airwaves, however, are public, and those who utilize them are required by law to serve the public interest, and not merely the interests of their masters. As the report reminds us, "We have the obligation and authority to regulate the media to encourage it to perform its constitutionally intended role, and we have limits on overregulation that would stifle the role of the media. The trick is to find the right balance. The balance is out of kilter and it is time to assert responsible regulation so that the media can more effectively serve our democracy." (pp. 2-3)
The report suggests solutions to each of the problems it identifies, and it is at least worth downloading for future reference and for the record it provides of the campaign contributions and lobbying expenditures of 24 major MSM players.
In our view, the MSM is probably beyond redeeming as a public service (where is Ralph Nader, for instance, who is polling 6-8 percent in some places despite a 100 percent MSM blackout?). We need rather to turn our attention to preserving Net Neutrality, already suffering from corporate incursions that threaten the nature and value of this brave new medium. Once Internet service providers (ISPs) obtain the right to charge sites for moving into the fast lane, the Net is dead. That day is at hand, and a McCain presidency will see it implemented.
ISP mega-giants Comcast and Verizon know this very well, and since 2005 it's been worth a cumulative $75 million to them in campaign contributions and lobbying to make that point to our elected public servants.
____________________
1
False Premises, False Promises,
by Peter DiCola, Research Director, Future of Music Coalition, December 2006 (Accessed September 1, 2008)
2
Media Reform Information Center
(Accessed July 26, 2008)
3
US media can't cover the news if they don't cover the world,
by John Hughes, The Christian Science Monitor, February 7, 2007 (Accessed September 1, 2008)
4
National Roper Poll Ranks PBS #1 in Public Trust for the Fourth Consecutive Year,
PBS Press Release, March 22, 2007 (Accessed September 1, 2008)
5
Administration's budget proposal includes unprecedented cuts for public broadcasting,
from Tell Them Public Matters.org, undated (Accessed September 1, 2008)
6
Media and Democracy in America Today: A Reform Plan for a New Administration (.pdf)
(Accessed September 1, 2008)