Aug 29, 2008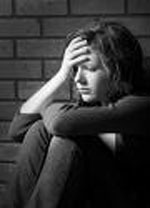 "My suffering used to be so beautiful. Now it's just a pain in the ass." So goes a line from a show we were once in that introduced freshmen to college life.

Kids suffer. We tell them, "Enjoy yourself! It's the best years of your life." But they suffer, and we know it. Because we did.

They suffer, to an extent, because suffering is beautiful, in a way, when it is something you can indulge in, and not something which is necessarily visited upon you by outside circumstances. Today, kids are suffering to a great extent because those outside circumstances are impinging upon those "best years" when they ought not to be burdened by the real world.

The Horatio Alger Foundation has just released a report entitled, "The State of Our Nation's Youth, 2008-2009." They have been polling teenagers since 1996 on their opinions regarding the nation, their schools, their families, and their own lives, present and to come. The most telling number to report this year is that only 53 percent feel hopeful about their country's future, down from 75 percent in 2003, the year Bush 2 took us to war in Iraq.

Not surprisingly, 75 percent believe the election will make a large difference for the country although, lacking the franchise, only 12 percent of them pay much attention to the campaigns. The economy and Iraq are the outside worries that are bringing the most pressure to bear on our teens, and the pressure to make good grades and get into the school of their choice is the one that haunts their homework-heavy nights.

In polls like this, the grass is often browner on the other side of the fence. Most of our kids—96 percent—say they are going on to some form of higher education after high school, 93 percent think they will reach their career goals, and 88% are confident about their own futures. Such healthy self-regard may be cause for some relief in the face of their otherwise dim view of the present day.

However, in the face of our persistent militarism; our thralldom to corporate interests that are increasing the gap enormously between the rich and the rest of us; and our apparent inability to work together to confront the educational, environmental, and political challenges that must be overcome if we are to endure, let alone prevail, as a species, I can only echo Hardy's "Darkling Thrush":


So little cause for carolings
Of such ecstatic sound
Was written on terrestrial things
Afar or nigh around,
That I could think there trembled through
His happy good-night air
Some blessed Hope, whereof he knew
And I was unaware.