Dec 29, 2008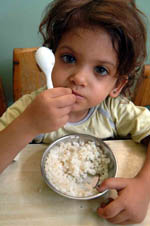 Yesterday, we addressed poverty in America in general terms. When we focus on children, the situation is considerably more bleak.

The Children's Defense Fund, in its State of America's Children 2008 Report (.pdf, 80 pp., 807Kb), provides a damning indictment of our treatment of our children. Its Highlights (.pdf, 2 pp., 139Kb) provide numbers which ought to enrage and awaken every American to action:
America lags behind almost all other industrialized countries on key child indicators.
We are the worst among industrialized nations in relative child poverty, the gap between rich and poor, teen birth rates, child gun violence, and the number of imprisoned persons.
An American child is born into poverty every 33 second, and 5.8 million live in extreme poverty.
8.9 million children are uninsured and every 18 minutes a child dies before its first birthday.
The average cost of child care in two-thirds of the states is greater than the annual tuition at a four-year public college.
Head Start and Early Head Start enroll only a fraction of eligible children (50 to 66 percent and three percent respectively).
Though white and black teens are about equally likely to use drugs, black juveniles are arrested twice as frequently for these offenses and are incarcerated at five times the rate of whites.
We may have more billionaires than anyone else, but we are 25th in infant mortality and in 15-year-olds' math scores. Sixty percent of our high school graduates do not read at grade level, and only the U.S. and Somalia—Somalia!—have failed to sign the U.N. Convention on the Rights of the Child.
"Give me the child for seven years," the Jesuits have been quoted as saying, "and I will give you the man." Give up a child to hunger, poverty, ignorance, and violence during its formative years, and at 18 what sort of emancipated adult can we expect to unleash upon the public?