Jan 26, 2009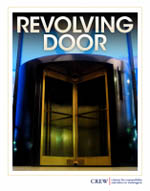 On Day One last week, Obama slammed a couple of doors. Time will tell whether he locked them or not.

And it was none too soon, as was revealed in Revolving Doors, a report from Citizens for Responsibility and Ethics in Washington (CREW) released on January 12, 2009. Their painstaking research into the activities of Bush 2 cabinet officials after leaving "public service" is harrowing, maddening, and finally nauseating. We knew there was a revolving door between federal government service and the corporate entities those servants had previously been charged with regulating. But this! To take but one example of the 24 presented in this report:

Spencer Abraham, Sec. of Energy, 2001-2005 (during Enron and the worst blackout in history). Shortly after his government service, he:
Joined the Hoover Institution, a conservative think tank at Stanford, where he focused on high-tech and energy policy.
Was elected to the board of Occidental Petroleum ($60k/year and $2k for each meeting attended).
Founded The Abraham Group, to lobby the government on behalf of Trans Global Petroleum, earning $75,000.
Named non-executive chairman (?) of Areva, Inc., an atomic energy company.
Became an advisor to software provider Energy Solutions International.
Was elected to the board of directors of ICx, manufacturer of sensors for homeland and military security.
Read the report to discover the details of all Mr. Abraham did for these companies by lobbying the Department of Energy and other government bodies.
In addition, find out what some of your other favorite ex-Bushies have been up to in this 112-page exposé: John Ashcroft (Attorney General-10 pages); Paul O'Neill (Treasury-9 pages); Rod Paige (Education-7 pages); Colin Powell (State-4 pages); Tom Ridge (Homeland Security-11 pages); Donald Rumsfeld (Defense-11 pages); Tommy Thompson (Health & Human Services-9 pages); Christine Todd Whitman (EPA-8 pages); and several lesser lights.
Meanwhile, back in today's White House, "Mr. Obama said no one would be given a job in any area where he or she had lobbied within the two preceding years, and if they left the White House before he did, they would have to agree not to work on those issues 'as long as I am president.'"
1
Was that a giant sucking sound we just heard, the sound of a million jobseekers taking back their résumés? Will the
service
actually be restored to "public service"? CREW's report certainly does not give us cause for optimism, and no one is more adept at finagling loopholes than those crafty boys and girls on K Street. Stay tuned.
____________________
1
On His First Full Day, Obama Tackles Sobering Challenges,
by Brian Knowlton, from the New York Times, January 21, 2009 (accessed January 21, 2009)