Jun 27, 2008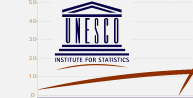 Education is the key. Education is the door. Having spent eight years working in public education, we know how abysmally underfunded and neglected it is in this country. What must it be like in other, less fortunate places?

The World Education Institute Survey of Primary Schools is a collaborative effort among the UNESCO Institute for Statistics, eleven participating countries (Argentina, Brazil, Chile, India, Malaysia, Paraguay, Peru, Phillipines, Sri Lanka, Tunisia, and Uruguay), and leading international experts.

Among the most significant/surprising findings:
Half of all primary school pupils in Chile attend private school.
Expenditure per primary pupil is highest in Chile ($2,120) and lowest in India (under $700). In the U.S., it is over $8,000 and it is arguable whether we get better results than India.
More than half of the students in India attend schools with no electricity.
Only about two-thirds of children attend schools with a library.
Only a median 22.8 percent of schools have computers for students to use with access to the Internet.
The "typical" teacher is 40 years old with 16 years of education including three years of teacher training and 14 years teaching experience.
Pupil to teacher ratios range from 59:1 (!) (village schools in India) to 18:1 (Malaysia). The average is 33:1 in towns; 27:1 in village schools.
One-quarter of schools, serving one-third of pupils, had vacancies in permanent teaching staff at the start of the school year.
Scuttling one unnecessary weapons system could provide the funds necessary to improve these numbers, providing thousands of jobs and making a discernible impact on populations—and markets— throughout the entire world. Education is the key.