Jun 29, 2008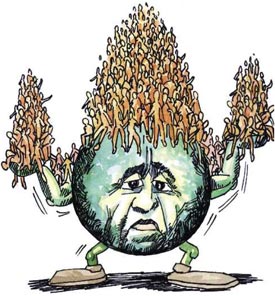 It took a million years for humanity to reach a population of one billion. It took 130 years to double that; 45 years to double it again; and, failing a catastrophe on the scale of the Black Death, it will take around 50 years to double it again to 8 billion by 2027 or so.1

In the more developed countries, population is growing at the rate of two per minute; in the less developed countries, at 151 per minute.2

More than global warming, more than world terrorism, more than bird flu and HIV AIDS, the crunch of overpopulation threatens the stability and security of the world. There are simply too many of us for this poor planet to sustain, and peaceful means of applying the brakes to population growth must be found before there are so many of us that violent ones are forced upon us.

Many organizations are involved in the study of population growth and engaged in activities to ameliorate it. A few are listed below. If you believe others should be here, email us, and we will add them.


Internationally funded source of population assistance for developing countries.
Seeking to improve the well-being and reproductive health of current and future generations.
Dedicated to advancing policies and programs that slow population growth in order to enhance the quality of life for all people.
Aims to educate the general public about the worldwide population control movement, its human rights abuses and racist foundations.
Informs people around the world about population, health, and the environment, and empowers them to use that information to advance the well-being of current and future generations.
Organizes programs that provide policymakers with population data.
Delivers the insights and ideas that empower decision makers to create an environmentally sustainable society that meets human needs.
The
U.S. Census Bureau
is the official U.S. government body charged with maintaining census and population data. In a recent press release (remembering we are in the throes of an administration that is allergic to providing its citizenry with bad news, even when—especially when—it's the truth), they note that their "latest projections show world population growing at a slower pace during the first half of the 21st century than the latter half of the 20th century" and that population growth is projected to increase by "only" 50 percent by 2050, admitting we are looking at the possibility of 9 billion people in that year.
Many of us won't be here in 2050; however, most of us—as well as our children and their children—will. What are you doing today to prepare that world for them? Do you think it's enough?
____________________
1
Source: First and second billion: Population Reference Bureau. Third through eighth billion: United Nations, World Population Prospects: The 2004 Revision (medium scenario), 2005.
2
Source: Population Reference Bureau, 2005 World Population Data Sheet.