Jul 09, 2008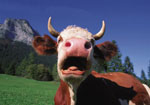 Animal agriculture—the raising of animals for human consumption—has experienced "warp speed" growth over the last 50 years. From a former paradigm of small family farms with a few animals housed in traditional barns and stables, we've morphed to a system of "industrial farm animal production (IFAP)" where thousands of animals are warehoused in factorylike structures, force fed, heavily medicated, and rushed to market after a life that can only be characterized, in the words of Thomas Hobbes, as "poor, nasty, brutish, and short."

As Daniel Quinn has persuasively argued in Ishmael and other books, our problems began 10,000 years ago when we stopped hunting and gathering and settled down to planting. That ingenious move on the part of the species enabled rapid population growth, and subsequent improvements in agriculture encouraged additional population growth which brought additional improvements which brought additional growth, until we're so overpopulated we're running out of space to plant all those improved agricultural products. Enter the industrial farm animal production, and the unintended and dire consequences set forth in the report from the Pew Charitable Trusts Commission on Farm Animal Production, "Putting Meat on the Table: Industrial Farm Animal Production in America."

As usual, we are only getting around to counting the costs of "progress" after we've begun paying them. The lengthy (124 pp.) and comprehensive Pew report covers just what those costs consist of, in terms of threats to our health; the impact on our poor, bedraggled environment; and the horrific consequences visited upon our fellow creatures in the cause of maximizing profits at both ends of the supply and demand chain. It summarizes a vast literature of research and the news it delivers is not good news. However, its recommendations to fix the system are as reasonable as they are thorough.

What I can do. What you can do.
First of all, we must elect representatives who will implement, through the passage of new laws, the recommendations set forth in the report. In the meanwhile, however, we can vote with our feet (and our mouths) by refraining from purchasing and eating animals and animal products which have not been produced in a humane manner. I believe only reputable third-party certification organizations may be trusted to provide standards that assure the humane treatment of farm animals. Thankfully, there are a number of them identified in the Pew report. (If you know of others, please tell me about them and I will add them to this list.) In future, I intend to require my retail providers (groceries and restaurants) to subscribe to one or more of these standards-defining and labeling bodies and will refrain from purchasing and consuming their products until they do so.
An International Standards Organization (ISO) certified third-party labeling program which provides detailed standards for egg-laying hens, broilers, turkeys, beef, dairy, sheep, and swine.
A third-party domestic labeling program that traces its roots to the formation in 1877 of the American Humane Association. It provides standards for egg-laying hens, broilers, turkeys, beef, dairy, sheep, and swine.
A third-party auditing and labeling program for caged layers.
It is interesting to note that on the Pew list of major US Animal Welfare Standards, where the three organizations noted above were found, all the entities that have been approved by a consortium of grocers and restaurants for the development of retail auditing programs are those whose standards are characterized as "guidelines" or "voluntary." None of the third-party certifying organizations noted above is among that list.