Sep 07, 2008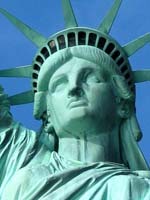 Sometimes our country seems to have the soul of a soccer hooligan. The beating death of Luis Ramirez a few weeks ago1 is just the latest in a long history of horrors inflicted upon those who would find a footing in this, "the last best hope of the world."

We are building a 200-mile-long wall on the Mexican border now,2 as the Israelis continue to build a "separation wall which writhes as a snake into the body of the West Bank."3 Walls don't work. They did not work for the Chinese, though they built a Great one; they did not work for the Soviets, though they built a fairly puny one. How many walls do we need to build before we realize this?

In the past few months, the mega-raids by Immigration and Customs Enforcement (ICE) against plants in Laurel, Mississippi,4 and Postville, Iowa,5 have wreaked havoc on the lives of hundreds of poor workers without affecting the lawbreakers who hired them. If we truly wanted to end illegal immigration in this country we could do it overnight, by punishing the employers. However, the employers and the politicians they finance need these immigrants in order to keep wages down—way down. Until an administration is in place which demands a living wage for all full-time workers, we will continue to see ICE cherrypicking the occasional high-profile raid opportunity as a sop to elements of their base (the frightened, undereducated, and embittered) who have been so thoroughly gulled by the current administration as to actually think the latter are doing their bidding.

We were put in mind of all this domestic horror by a statistics-laden and oh-so-unemotional report from representatives of CRA International and Harvard Business School. "Economic Impacts of Immigration: A Survey," by Sari Pekkala Kerr (CRA) and William R. Kerr (Harvard) provides a sober examination of the economics of legal immigration, concentrating on the European Union countries, the U.S., and Canada, in that order of emphasis. Their conclusions are a combination of the expected and the not so expected:
Recent immigrants earn less, but the gap tends to diminish over time;
The assumption that immigrants are more dependent on social assistance programs is not uniformly confirmed by the literature;
Most studies find only minor displacement effects on the native population, even following large immigrant flows, with most of that displacement affecting the less educated and previous immigrant populations;
"[I]mmigrants appear to have a minor positive net fiscal effect for host countries."
We are—first, last, and always—one world, one people, traveling one road. And the extent to which our fellow travelers leave their native soil for the uncertain cultivation of another, to that extent have we failed to secure for them the rights and privileges that are their due at home.
____________________
1
"So far like the present..."
from All Together Now, July 30, 2008.
2
Conservationists warn of border fence's impac,
from The Houston Chronicle, August 22, 2008 (Accessed September 4, 2008)
3
Qurei denies any progress in peace talks with Israel,
from the Xinhua News Agency, undated (Accessed September 4, 2008)
4
After ICE Raid Mississippi Workers Labor to Overcome Racial Division,
from Pacific News Service, September 3, 2008 (Accessed September 4, 2008)
5
Postville raid prompts immigration reform rally,
from the New York Daily News, July 14, 2008 (Accessed September 4, 2008)