Oct 10, 2008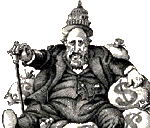 What do the recently resigned Prime Minister of Israel and the longest-serving American senator have in common? Corruption. The latter is currently on trial and the former resigned in order to prepare for his likely day in court. Nothing saps a people's self-esteem or optimism for the future so much as knowing they are governed by corrupt officials. Dante consigned traitors to the deepest circle in Hell and corruption in office is a kind of treason. It not only betrays an indifference to the policies and processes that brought the corrupt officials to their post, but it destroys the value of whatever purpose, integrity, or worth they might have brought to their position.

Corruption and poverty are the twin afflictions of the failed state, the extent to which one is present more often than not reflected in the extent of the other. Transparency International, its principal offices in Berlin, fights societal and political corruption in all its forms. Their 2008 Corruption Perceptions Index rates corruption in 180 countries, based on tabulations taken from up to 13 surveys and expert assessments. At least three were required for a country to be included in the findings, which rated countries from 0 (highly corrupt) to 10 (highly clean). Among the findings:
Denmark, Sweden, and New Zealand are tied at 9.3 for the least corrupt countries.
Somalia, at 1.0, is the most corrupt country.
Close behind Somalia, tied for next to last place, is Iraq (1.3), into which we are pouring $10 billion per month; Afghanistan is fifth from last place (1.5).
The U.S. is in 18th place, tied with Japan and Belgium at a rating of 7.3.
72 of the 180 countries scored below 3.0; only 22 countries scored 7.0 or above.
China kills its corrupt officials, both in sport, in one of the most popular video games in the country, and, from time to time, for real.
1
We can appreciate the sentiment, as much as we may deplore its application.
____________________
1
China enjoys anti-corruption game,
from BBC News, August 2, 2007 (Accessed October 5, 2008)