Oct 22, 2008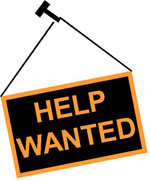 We may not vote for Obama, but should he win the White House anyway, we would love to work for him.

Last weekend, Polltrack's Presidential Race Map projected Obama winning 273 electoral votes on Election Day, three more than needed to win. We think it likely, in light of the Republican Party's full court press to disenfranchise as many of the Obama electorate as they possibly can (they've had eight years and two presidential elections to hone their skills in this regard) that Obama will have to win by a landslide—perhaps by as much as 20 percentage points—if he is to squeak into the White House.

If he does, he is going to be looking for a lot of help. Despite surrounding himself with Clinton-era advisers during the campaign, we hope Obama will wield the proverbial new broom once in the White House. If he does, considering the stranglehold Republicans have had on the federal government for thirty disastrous years, he will need to look far afield to gather a new set of subordinates. Many of them will be pretty clueless regarding the ins and outs of D.C. politics. The IBM Center for The Business of Government has rushed in to fill the gap in this knowledge with The Presidential Transition, a guide for government executives.

They offer mini-essays on "Six 'To-Dos'":
Before Confirmation, Be Careful
Learn How Things Work
Act Quickly on What Can't Wait
Develop a Vision and a Focused Agenda
Assemble Your Leadership Team
Manage Your Environment
Also, there are somewhat longer essays, by well-known Washington insiders and cognoscenti, on interacting with and managing stakeholders, including the White House, Congress, colleagues, constituencies, and overseers.
If Obama is the man we hope he is, and if he is elected, we expect an outreach well beyond the D.C. beltline for energized talent that can shape a new direction so desperately needed for our nation and our world.
Now, where did we put that résumé?