Nov 02, 2008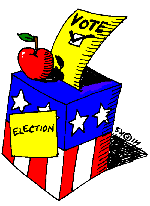 Writing this eleven days, and running it two days, before election, we don't think one needs to go very far out on a limb to predict a McCain victory.

A full-court press against America's right to vote—for the Democratic presidential nominee at any rate—will assure a close election goes to the Republican, as it did in 2000 and 2004. How do we know this? Let us count the ways (and many more have come to light than we summarize below):
An email circulating in Texas and targeting supporters of Obama advises voters to do just the opposite of what they have to do in order to vote for Obama when also voting the "straight party ticket." New voters will be especially confused by this procedure.1
Mailings and robocalls in swing states are branding Obama a terrorist.2
Early voters have reported that voting machines are switching their votes from Obama to McCain and in some cases refusing to acknowledge a vote for Obama.3
North Carolina also suffers from the "straight party ticket" blues of Texas. In North Carolina, however, a vote for the straight Democratic party ticket does not include a vote for Obama. North Carolina voters must vote for both, while in Texas voting for both nullifies both votes.4
In swing state Virginia, an online questionnaire for students to determine their place of legal residence "actually may confuse, mislead, and intimidate student voters. It asks personal and irrelevant questions that may scare off voters likely to vote for Obama."5
By putting voting machine makers in charge of secret procedures to certify their own products, serious defects have gone unannounced and unrepaired. Since the federal Election Assistance Administration took over the testing in 2005, not a single voting machine has been certified. Tens of thousands of computerized voting machines whose flaws have been demonstrated over and over will be in operation on November 4.6
Scores of laws and new "policies" regarding registration and IDs, together with widespread lack of understanding among the nation's election officials, promise to disenfranchise thousands of poor, minority, and new voters in 2008.7,8
In a cynical attempt at taking the spotlight off truly criminal voter fraud activities, the administration has ordered its federal police to go after ACORN, the nonpartisan grassroots group that has registered hundreds of thousands of new voters, most of them poor and black and likely to vote for Obama. The occasional flawed registrations handed in by ACORN employees are openly acknowledged by ACORN, as are ACORN's rigorous efforts to detect and flag them. Remember those eight attorneys general who were fired by the still-unemployed Alberto Gonzalez? They were fired because they could not find the actionable Democratic voter fraud their masters wanted them to find and to prosecute.9
For a roundup of several McCain party attempts at stealing the election, read the transcript from Amy Goodman's October 22, 2008, Democracy Now! interview with Mark Crispin Miller, professor of media culture and communication at New York University. Miller offers proof that the 2004 election was stolen in Ohio and explains in detail the nuts and bolts of how it will be again in 2008, primarily through electronic vote fixing.10
Finally, Obama is black, and this country cannot forgive itself for what it did to the black race, and cannot free itself from its soul-withering racism. Miller dismisses the Bradley Effect—wherein voters lie to pollsters about their intentions in order to mask their racism—as simply the "narrative" Republicans will use to explain how Obama lost the election they are already in the process of stealing. However, we would not be surprised that when it comes down to the highest office in the land, the Bradley Effect will kick in on Tuesday with a vengeance. Unlike the allegations made by Miller, however, this phenomenon will be all but impossible to prove.
Tomorrow, we will pass along our choice for our next president.
____________________
1
Democrats cry foul over suspicious email,
by Kelley Shannon, Associated Press, in the Dallas News, October 15, 2008 (This and other items accessed October 24, 2008)
2
Voters slam McCain Mailer, Robocalls Linking Obama to Terrorists,
from FoxNews.com, October 17, 2008
3
N. Texas residents say machines switched Dem votes,
by Libby Cluett, McClatchy-Tribune, on Chron.com (The Houston Chronicle), October 24, 2008
4
Straight-ticket omits presidential race,
by James T. Hamilton, from the Charlotte Observer, October 7, 2008
5
Misleading VA Board of Elections Website Could Deter Student Voters,
from Brennan Center for Justice, September 16, 2008
6
Warning on voting machines reveals oversight failures,
by Greg Gordon, McClatchy Newspapers, on KansasCity.com, October 24, 2008
7
Voter ID battle shifts to proof of citizenship,
Ian Urbina, from The New York Times, May 12, 2008
8
De facto disenfranchisement,
by Erica Wood and Rachel Bloom, from Brennan Center for Justice, October 1, 2008
9
FBI investigating ACORN voter fraud claims,
from Newsday, on the Los Angeles Times, October 17, 2008
10
Early voting sees reports of voter intimidation, machine malfunctions,
from Democracy Now, October 22, 2008