Nov 19, 2008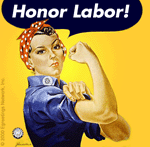 We're sorry, but we're going to keep harping on poor people until we get rid of them.

Poor people cost us money. When they get sick, they jack up our health insurance premiums with their uninsured visits to emergency rooms; when desperation drives them to crime, they fill our overfull prisons; they are responsible for scores of expensive local, state, and federal safety-net-type programs, from food stamps to SCHIP to WIC to you-name-it; and too many of them vote Republican which, as we know, costs us all real money.

A short report from the Working Poor Families Project entitled Still Working Hard, Still Falling Short explodes many of the myths surrounding working poor families, and reports how their numbers have skyrocketed during a period of solid economic growth.

A low-income working family (LIWF) is defined as a married-couple or single-parent family with at least one child under the age of 18 earning less than 200 percent of the poverty income threshold as defined by the U.S. Census Bureau. In 2006, that was $41,228 for a family of four. It is worthwhile to remember that the poverty income threshold is higher than a full-time job earns at the federal minimum wage, never mind 200 percent of that threshold. And 22 percent of all jobs, more than one in five, pay less than the poverty income threshold.
The number of LIWFs increased by 350,000 between 2002 and 2006.
During that period, the economy added 4.7 million jobs paying at the poverty-threshold level.
Almost half of all jobs require more than a high school education, and 88 million adult workers are not ready for these positions.
Myth: LIWFs are slackers. Truth: The average annual work effort of LIWFs is the equivalent of 1.25 full-time jobs.
Myth: LIWFs are headed by single parents. Truth: 52 percent of LIWFs are headed by married couples.
Myth: LIWFs are headed by immigrants. Truth: 69 percent of LIWFs have only American-born parents.
As a Vermonter, we are proud to see that Vermont ranks number 1 in income equality between the top and bottom income quintiles.
Although many states are implementing innovative policies involving skills training and financial aid, we believe the federal government should cut to the chase, end poverty among working Americans overnight, and save us all a ton of money. See our November 15, 2008, item,
Double Up and Win
for the magic formula.
And once we have money in American pockets and at least a high school diploma on every wall, the Republicans will have to stop relying on the ignorant poor to win elections; return to the core values of the party of Lincoln, T.R., and Eisenhower; and perhaps reclaim a degree of respect within the framework of American politics.