Nov 22, 2008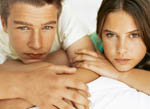 Post hoc ergo propter hoc is a logical fallacy that says, "Since that event followed this one, that event must have been caused by this one."1 The usually level-headed Rand Corporation has fallen into this common error in its latest study on teenage pregnancy, which, in their news release, claims it is the "First to Link Viewing of Sexual Content on Television to Subsequent Teen Pregnancy." This is not to say that watching a lot of sex on television does not lead to a tendency to become pregnant. However, it is just as logical to conclude that a tendency to become pregnant leads to watching a lot of sex on television.

We don't personally know the current state of sexuality on television, being blissfully unencumbered by that annoyance; however, we are pretty sure it can't hold a candle to the current state of sexuality on the Internet. There, if you can Google it, you can find it, in full-screen video. And we are sure it is having a far more profound effect on teen sexual activity than watching Tony Soprano climb on top of some pneumatic extra on HBO.

Among more certifiable truths regarding teen sexuality are these: Teen births declined precipitously from 60 births per 1,000 teens age 15 to 19 in 1991 to 40 in 2005. There was a slight increase in 2006.2 The abortion rate has also enjoyed significant declines since 1990, as we noted in No Sex, Please, We're Abstaining. We expect when the new administration scuttles the ridiculous "abstinence only" sex education requirements associated with federal support of various family planning programs here and abroad that the abortion rate will be reduced even more dramatically.

The fact of the matter may just be that all this sex we are awash in is doing us more good than harm! A recent study published in the Journal of Youth and Adolescence3 finds that "teens who have sex at an early age may be less inclined to exhibit delinquent behavior in early adulthood than their peers who waited until they were older to have sex."4 Sex may even help these teens in developing better social relationships in early adulthood.


I whispered, "I am too young,"
And then, "I am old enough";
Wherefore I threw a penny
To find out if I might love.
"Go and love, go and love, young man,
If the lady be young and fair."
Ah, penny, brown penny, brown penny,
I am looped in the loops of her hair.

O love is the crooked thing,
There is nobody wise enough
To find out all that is in it,
For he would be thinking of love
Till the stars had run away
And the shadows eaten the moon.
Ah, penny, brown penny, brown penny,
One cannot begin it too soon.5
____________________
1
Post hoc ergo proper hoc,
from Wikipedia (Accessed November 16, 2008)
2
Teenage Birth Rate Rises for First Time Since '91,
by Gardiner Harris, from the New York Times, December 6, 2007 (Accessed November 16, 2008)
3
Rethinking Timing of First Sex and Delinquency,
by K. Paige Harden, et al., from Journal of Youth and Adolescence, volume 37, number 4, April 2008, pp. 373-385 (Accessed November 16, 2008)
4
Early Teen Sex May Not Be A Path To Delinquency, Study Shows,
from ScienceDaily, November 14, 2007 (Accessed November 16, 2008)
5
Brown Penny,
by William Butler Yeats (Accessed November 16, 2008)