Nov 28, 2008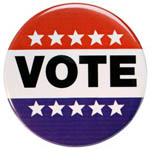 As we contemplate the coming of the era of change promised by Obama, the Center for American Progress, along with the New Democracy Project, is in the process of producing a book-length, comprehensive set of recommendations, called Change for America: A Progressive Blueprint for the 44th President. The complete Table of Contents of its 46 chapters include sections on The White House, Economic Policy, Domestic Policy, and National Security Policy.

The fact that the preface and first chapter are written by John Podesta, the co-chair of the Obama-Biden Transition team (and a Chief of Staff in the Clinton administration), bodes well for attention being paid to this work by the new administration. It may even be, to a certain extent, what it is called: a blueprint for Obama's presidency. In either case, progressives should pay attention to its contents, and we will feature some of them in future postings.

Today, we feature a chapter written by Michael Waldman, the Executive Director of the Brennan Center for Justice at New York University School of Law. Waldman's chapter, Renewing Our Democracy (.pdf), deals with voting issues, the Brennan Center's specialty, and he makes the following recommendations, which he says "will help permanently enlarge the constituency and coalition for progressive politics":
No voter should be disenfranchised for lack of appropriate paperwork, and the government should issue free IDs if necessary.
Enact a national universal voter registration law and help fund the states to make the transitional changes required. Same-day registration should be allowed in all states.
Enact whatever laws are required to ensure that electronic voting machines work as they are supposed to work, including required audit trails and other measures.
Restore voting rights to prisoners upon their release.
Provide the Election Assistance Commission with sufficient funding so that makers of electronic voting machines, for instance, do not get to choose the labs that certify their products.
Reform congressional campaign funding, which still comes overwhelmingly from lobbyists and special interests, with only 10 percent coming from contributions of less than $200. Enacting the Fair Elections Now Act, providing public financing for congressional elections, would amplify the voices of the people, counterbalancing big money's overwhelming influence. If we cannot get big money out, get more small money in, and make it matter by providing matching federal funds.
Reform the Federal Election Commission, removing it from the political arena.
End gerrymandering.
End the Electoral College and elect that candidate president who receives the highest popular vote count.
The universal franchise—the right of all adult citizens to vote—is the essential, defining characteristic of a democracy. Our laws must cease their emphasis on
dis
abling that right, and must be crafted to enable it as widely and efficiently and effectively as possible.