Dec 06, 2008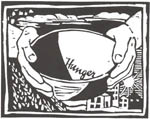 One of the themes emerging from All Together Now is the pragmatic basis of the Golden Rule. It is to our advantage that we treat others as we would be treated. To treat them less well, to refrain from relieving them of their poverty, ignorance, or disease when it is within our power to do so, works to our immediate, ongoing, and serious disadvantage.

The Progressive Policy Institute knows whereof we speak. In one of their latest "Memos to the President," Ending Child Hunger in America (.pdf), by Joel Berg and Tom Freedman, their recommendations are firmly grounded in the logic of our first paragraph. The bad news:
One in six children in America live below the poverty line.
Food prices increased four percent in 2007, over one and one-half times the annual average in the previous 15 years.
Eighty-four percent of food banks were unable to meet demand in 2007, with increases in clientele as high as 20 percent.
Food insecurity costs us $90 billion a year in lost productivity, health care costs, and substandard educational performance.
Their five recommendations to end child hunger in America:
Provide all children with a free school breakfast

Only one in five children eligible for free school breakfasts actually receive them, for a variety of reasons. Feed all the children instead. The benefits are many and the results (already tried in some districts) are astounding.

Improve program efficiency and accountability

There is a plethora of food-related federal programs that could be combined, resulting in a more efficient and inexpensive system that would reach more eligible families.

Support working families

"One of the best ways government can help working families is to make sure that work pays a decent wage." Hear, hear!!

Reward best practices in the states

Reward these testing grounds with cash bonuses for the most effective programs to reduce child hunger, prompting a competition across all 50 of them.

Provide real ammo to the armies of compassion

They are out there, in the trenches, and in touch with where the need is highest. Partner with these secular and religious-based groups; they will be the soldiers who will win your war against childhood hunger.
An admirable goal: No hungry child in America ever again following an Obama administration.
Admirable and eminently achievable.