Dec 07, 2008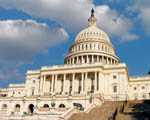 Okay, college grad, think yer pretty smart? Try this Civics Quiz on for size. It comes from the Intercollegiate Studies Institute (ISI) an organization which seeks "to enhance the rising generation's knowledge of our nation's founding principles." They have their work cut out for them.

In 2006 and 2007, they tested 14,000 freshmen and seniors at 50 colleges and universities nationwide on the basics of their American heritage, and in both years they failed, scoring less than 55 percent on average.1 This year, in an attempt "to learn more about the real-world consequences of this collegiate failure," they tested a broader cross-section of Americans of all ages and backgrounds, asking them 33 basic questions about the history and operation of American democracy, the Civics Quiz mentioned above which you are invited to take. The bad news:
Seventy-one percent failed, with an overall average score of 49 percent.
College adds little to civic knowledge.
Television, including TV news, dumbs down America.
Elected officials score five percentage points lower than non-officeholders.
Fewer than half of all Americans can name all three branches of the federal government.
Sixty percent is passing. Good luck.
____________________
1
Summary,
from ISI, accessed December 3, 2008