Dec 14, 2008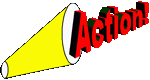 Actions we have taken to promote progressive change.

Your participation, in these or other efforts, will double the impact chronicled below. Bookmark this link in order to return to this posting to note future additions.

Jan 31, 2009: Signed a letter to President Obama, facilitated by Food and Water Watch, urging him not to appoint Judd Gregg as Commerce Secretary. Gregg favors ocean farm fishing, which is very harmful to wild fish. See: Ocean Fish Farming Harms Wild Fish, at Science News.


Jan 31, 2009 (busy day): Signed a petition to U.S. Senators, facilitated by Food and Water Watch, urging our senators to restore funding slashed in the House for urgently needed water and wastewater infrastructure development and repairs.


Jan 31, 2009: Signed a petition, facilitated by Credo Action, urging our Representative to co-sponsor H.R. 104, a bill to establish a criminal investigation into acts committed by the Bush Administration.


Jan 31, 2009: Wrote to the White House urging the president to cease his support of tax cheats and promoters of genocide, and suggesting Howard Dean for Secretary of DHHS.


Jan 31, 2009: Wrote a letter to Hillary Clinton and Susan Rice facilitated by Amnesty International, urging them to open an investigation into possible war crimes in Gaza based upon Amnesty's on-the-ground findings.


Jan 30, 2009: Wrote a letter to our congressional delegation facilitated by the National Parks Conservation Association in support of the $2.25 billion investment in parks which is part of Obama's stimulus package.


Jan 28, 2009: Signed a ColorOfChange petition urging the D.A. in the Oscar Grant case to prosecute a second officer for assault.


Jan 26, 2009: On reading the news that Biden thinks the banks will need more than the $700 billion authorized so far, we wrote our senators and representative in Washington adamantly opposing more bailout money until the country learns what was done with the first $700 billion and its effect, and until respected independent economists such as Paul Krugman and Joseph Stiglitz call for additional assistance.


Jan 25, 2009: Donated a few dollars to the Vermont Progressive Party after writing them up for the Jan 27 ATN item.


Jan 24, 2009: Signed a Credo Action petition urging Senator John Cornyn (R-TX) to suspend his delaying tactics regarding Eric Holder's confirmation as Attorney General. Sen. Cornyn is concerned that the administration may seek to prosecute those who ordered or carried out torture in the last administration and is apparently seeking guarantees that it will not.


Jan 23, 2009: Signed an Amnesty International petition thanking Obama for signing the order to close Guantanamo and urging him to name a commission of inquiry to investigate and hold accountable any criminal acts committed there over the past eight years. Donated a few dollars to Amnesty (tax-deductible).


Jan 16, 2009: Signed a Food Democracy Now petition, urging the Dept of Agriculture Secretary-Designate to appoint Under Secretaries from a list of 12 candidates who favor sustainable agriculture.
Update Feb 28, 2009: One of the Sustainable Dozen, Kathleen Merrigan, was named Deputy Secretary of Agriculture. Further Food Democracy Now met with Secretary Vilsack on Feb 24, 2009, and presented him with 87,000 signatures on a petition supporting sustainable agriculture. You can sign HERE.


Jan 15, 2009: Signed an Amnesty International petition to our congressional delegation, asking them to do whatever they can to end the disaster in Gaza.


Jan 14, 2009: Found an Obama Inaugural Bash to attend on the MoveOn.org site. We were happy to see they were coordinating this organizational effort with TrueMajority, ColorOfChange, and other grassroots groups. We Shall Overcome—Together!


Jan 14, 2009: Donated $50 to Greg Mortenson's Central Asia Institute. This donation was gathered in a Pennies for Peace cup at our office.


Jan 13, 2009: Signed a ColorOfChange.org petition demanding CA Attorney General Jerry Brown take action against the BART officer who killed Oscar Grant in cold blood. Twelve days have gone by and the officer has not been, arrested, charged, or even questioned.
Update Jan 15, 2009: Johannes Mehserle was arrested and charged with murder on Wednesday, Jan 14.


Jan 8, 2009: Signed a Democracy for America petition urging the new chair of the Democratic National Committee to retain the 50-state strategy which has been so successful.


Jan 3, 2009: Signed an Amnesty International petition to Sec. of State Rice expressing concern for the humanitarian disaster in Gaza.


December 30, 2008: Donated a few dollars (tax-deductible) to three organizations badly hurt by Bernard Madoff, The Brennan Center for Justice, Human Rights Watch, and the Center for Constitutional Rights. The contributions, made through MoveOn.org, were matched 2 to 1 by a pair of philanthropic agencies.


December 29, 2008: Signed an Avaaz.org petition for a cease fire in Gaza.


December 22, 2008: Signed an Avaaz.org petition for radio campaign in Zimbabwe. Donated a few dollars to help buy radio time there (deductible).


December 19, 2008: Filled in a survey for The Nation magazine, urging them to concentrate on three priorities: income, education, and health care.


December 18, 2008: Signed a ColorOfChange petition to the Louisiana legal authorities urging them to investigate vigilante killings of blacks post-Katrina.


December 16, 2008: Registered for, set up, and announced an Obama Health Care Community Discussion for Dec. 28.


Dec 15, 2008: Nominated topic for Moveon.Org to concentrate on in 2009.

Donated a few dollars to Democracy Now! and Food&WaterWatch (tax-deductible).

Signed a J Street petition urging the Conference of Presidents of Major American Jewish Organization to condemn the recent violence, including two shootings, of Jewish settlers against Palestinians.


Dec 11, 2008: Signed petition from Food Democracy Now to Obama regarding the importance of reform in our nation's agricultural practices and encouraging him to name a reformer as Secretary of Agriculture.

Signed an Amnesty International petition urging Obama to take action to protect women and girls from sexual violence in the Congo.


Dec 10, 2008: Signed Amnesty International petition to our representative, encouraging him to co-sponsor HR.5927, the International Violence Against Women Act; and signed their Universal Declaration of Human Rights pledge.

Sent a note to Chancellor Merkel in Poland, through Avaaz.org, urging her to stop stonewalling a proper European agreement on GHG emissions.
Update, Dec 15, 2008: Chancellor Merkel scaled back elements of her opposition that would have resulted in greater GHG emissions, thanks in part to 200,000 worldwide signatories of the petition.


Dec 9, 2008: Sent messages to Vermont's congressional delegation encouraging them to pursue a progressive agenda in the 111th Congress, and referencing two ATN postings, Great Expectations 1: The Domestic Scene and Great Expectations 2: Foreign Affairs.


Dec 8, 2008: Signed a National Parks Conservation Association (NPCA) petition to Secretary of the Interior Dirk Kempthorne, opposing the sale of oil and gas leases on land adjoining two national parks and a national monument. Light, air, and noise pollution are among the threats these leases pose. The opportunity came through email from NPCA, and we were able to take part in the petition with two mouse clicks.
Update: On December 10, 2008, the Bush administration abruptly dropped its plan to site new coal-burning electricity generating plants near national parks.