Jan 05, 2009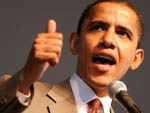 We would like to hear the following from the newly sworn-in Obama during his First Inaugural Address; however, we are prepared to be patient and to wait until January 21, after the Inaugural Ball is over and he has settled into the Oval Office for Day One. Nothing in this Seven-Point Plan for the 21st Century should be objectionable to any fair-minded American:
An End to Torture

As Commander-in-Chief, Obama issues an Executive Order that all prisoners held by the U.S. will be treated strictly according to the Geneva Conventions, and any evidence of faltering from this standard will result in prosecution of the individuals involved and their superior officers.

Zero Tolerance for Dictatorships

As the shaper of foreign policy, Obama announces a new dawn of democracy in America and throughout the world with a pledge to end U.S. support for illegitimate, tyrannical, dictatorial, or otherwise oppressive regimes that have not been chosen by the people in fair and democratic elections. Furthermore, he pledges our full support to those nations which do elect their governments through a fair democratic process.

Rejoining the Family of Nations

The new President pledges that the U.S. will rejoin the family of nations, pay past dues to the United Nations, and become a full partner in a global effort to bring peace, health, and prosperity to the world.

Reaffirming the Rule of Law

As the country's chief law enforcement officer, Obama orders his Attorney General to open wide-ranging investigations into both Wall Street financial firms and the Bush White House to establish whether U.S. laws were broken and, if so, to press for full accountability through civil actions and criminal indictments.

An End to Poverty

Declaring that poverty is unacceptable in the richest country in the world, and that its continuation is a threat to our future security, Obama pledges to end poverty for working Americans during his first term.

An Educated Public

Warning of a precipitous decline in educational standards in the U.S., Obama pledges to raise high school graduation rates above 90 percent and provide post-secondary education opportunities to anyone who wants them.

Health Care for All

Noting the impending disintegration of a top-heavy health care system that is increasingly failing the American people, Obama pledges to bring universal, single-payer, federally managed health care, cradle to grave, to the American people during his first term.
This is change we can believe in, and change the majority of American people support. Nothing less will do.