Jan 09, 2009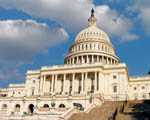 Except for a couple of senatorial seats and one in the House, the 111th Congress is pretty much nailed down. And the Congressional Research Service has given us an up-close-and-personal look at the boys and girls who will be haunting our dreams for the next two years. These are the cats Obama will be herding through the first half—the traditionally more effective half—of his administration. Here are a few fast facts for cocktail chatter at your inaugural bash:1


House Democrats outnumber the Republicans 262 to 178—a comfortable majority.
Not so in the Senate, where Dems count on the two Independents who caucus with them to raise their majority to 57 to 41, still three short of the filibuster-busting 60. And Kennedy and Burris (or whoever) together won't change that.
Your average senator is six years older than your average House member (63 to 57). The average age of senators has gone up 1.5 years over each of the past two congresses; the average age of representatives has gone up one year.
The House folk have been there on average for 11 years and the senators for 12.9.
Women have crashed through the glass ceiling in record numbers this time around, with 78 in the House (18%) and 17 in the Senate (17%). They are still radically underrepresented.
However, that is better than the African-American representation, with 41 in the House (all Democrats!) and (as of January 6) not one in the Senate.
Former occupations of members of the 111th Congress include five Peace Corps volunteers, one territorial first lady, a talk show host, five accountants, an astronaut, three organic farmers, a river boat captain, and 225 lawyers.
Ninety-five percent of our lawmakers have college degrees, but the only PhDs (23 of them) are in the House.
The one Native American in the 111th Congress, serving in the House, is a Republican. Go figure.
And gosh, we wish them all just the very best of luck. The clock is ticking and the honeymoon is over in 60 days.
____________________
1
Members of the 111th Congress: A Profile,
by Mildred Amer and Jennifer E. Manning, from
OpenCRS,
December 31, 2008, accessed January 6, 2009