Jan 10, 2009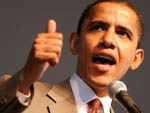 The latest word out of the mainstream media is that Obama will go ahead with a $300 billion tax cut for middle-class workers and small businesses as part of the new administration's economic stimulus effort.1 That figure represents about 39 percent of the $775 billion his advisers are looking to inject into the economy. He is doing it at the behest of the Republican minority, and the figure would amount to about $500 each for us middle-class workers. That is $100 less than the utterly ineffective midsummer checks from Bush 2, and far less tangible, coming, as it will, in slightly reduced withholding of federal income taxes dragged out over a long series of paychecks.

The Republicans are also encouraging Obama to loan, rather than grant, relief money to the states, a move which would almost certainly be useless in helping to bring about an economic recovery, in fact, quite the contrary. This was argued very cogently a few days ago by the Center on Budget and Policy Priorities (CBPP), which concluded, "The proposal reflects misperceptions about why states face large deficits, how state budgets and constitutions work, how states would use fiscal relief, and what will happen if they do not receive it."2 CBPP notes the states' shortfalls over the next two and one-half years are projected at $350 billion, close to the amount Obama plans to waste in tiny giveaways to taxpayers who don't need it.

These Republican positions reflect the nefarious subtext of practically every Republican "proposal" we have heard for the last 30 years: Cut taxes, cut taxes, cut taxes, and don't give anything to anyone but the filthy rich, especially any entity, such as the states, that serves the common good.

Having given in on the tax cut issue, it will be interesting to see if Obama gives in on the state loan issue as well. And if he does so on both, we shall see how quickly, readily, and collegially the Republicans fall into his camp and enable smooth passage of his stimulus passage. Our prediction? Don't hold your breath.

In naming Hillary to the highest post he could bring himself to award her, in naming many another leftover Clintonite as well as a couple of Republicans to high-level positions in his administration, in handing over a hefty portion of his stimulus package to Republican ideology, Obama is apparently trying to please all of the people all of the time. He will not. He cannot. He has apparently never taken note of wise advice the journalist Herbert Bayard Swope passed along a while back:
I cannot give you the formula for success, but I can give you the formula for failure, which is: try to please everybody.
Well, perhaps not everybody. Now that Obama has named the unlikely Leon Panetta (ex-Chief of Staff to Bill Clinton) to head the CIA, his major appointments are complete. And where among the voices within his hearing is one clear call for the progressive change on which we all thought he ran?
Exactly nowhere.
____________________
1
Obama Seeks Wide Support in Congress for Stimulus,
by Jeff Zeleny and David M. Herszenhorn, from the New York Times, January 6, 2009, accessed January 7, 2009
2
Converting state fiscal relief to loans would render in ineffective as stimulus,
by Iris J. Lay and Nicholas Johnson, from Center on Budget and Policy Priorities, January 7, 2009, accessed January 7, 2009