Jan 28, 2009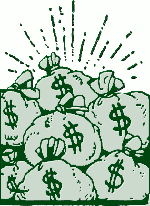 We consider ourself to be fiscally conservative. By that, we mean we believe we should pay as we go, exercise oversight and restraint on our expenditures, and practice thrift as a general rule. President Obama has made frequent mention of his determination to spend the taxpayer's money with care and, when he discovers it is not being well spent, to act swiftly to minimize the waste and damage. These used to be good Republican principles and the fact that they aren't anymore shows just how far the party has diverged from its core beliefs.

We hope Obama will not tolerate the egregious and irresponsible handling of public monies described in a recent report from the Special Inspector General for Iraq Reconstruction. The report, Cost, Outcome, and Oversight of Iraq Reconstruction Contract with Kellogg Brown & Root Services, Inc. (.pdf, 61 pp., 2.1Mb), concerns one of many contracts, often awarded with no competition, that resulted in hasty, shoddy, incomplete, and unmaintained repairs to the Iraq infrastructure which the Bush administration foolishly attempted to deliver in the midst of a war. Its conclusion struggles to paint a bright face on disaster:
The lack of security, the absence of protection against infrastructure looting, and poor pre-war maintenance were the major contributors to the cost of this contract. What KBR improved was better than the pre-war facilities, but unless the Government of Iraq completes what KBR started and maintains what it provided, the value of KBR's effort will be diminished and possibly lost.
The new administration is now preparing to spend up to a trillion dollars of public money on a fiscal stimulus package. It will be an early test of the Obama administration's promises regarding fiscal responsibility, transparency, and accountability. We are sure we will not be alone in keeping our eye on all three aspects.