Feb 03, 2009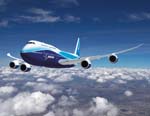 We receive a daily email from the Aerospace Industry Association which provides all sorts of news and gossip regarding the Military-Industrial Corporatocracy that runs the show here in Freedomland. A scan of the latest headlines provides a good taste of this resource, which you can sign up for here.
Boeing to be sole bidder on Air Force One

Apparently, Boeing's only competition for the new fleet of three mega-jets for our none-dare-call-it-imperial presidency is Europe's Airbus. When Representative Ted Poe (R-TX) introduced legislation requiring the fleet contract be awarded to an American firm, Airbus dropped out. So look for another multi-billion-dollar non-competitive contract being awarded soon. But don't tell Boeing. They might jack up the price. Read more at the L.A. Times: Airbus to stay out of contest for Air Force One.



Obama pledges support in first Pentagon meeting

Everything went swimmingly for militarism at Obama's first sit-down with our boys in uniform, with nary a discouraging word apparently raised regarding the futility of force which has been demonstrated over and over again in the last sixty years. Read more in Defense News: At Pentagon, Obama Pledges Decisions "Immediately."



Delta re-ups for federal safety program

Are we reading this right? Is Delta just now allowing their pilots to report safety violations without fear of reprisals? And other domestic carriers aren't? Can you say "federal whistleblower laws"? Read more at Bloomberg.com: Delta, Pilots Rejoining U.S. Airline Safety Program.



Report: Pentagon pushed sole-source contract for CSAR-X

That's a $15 billion helicopter program, for which the Pentagon pressured the Air Force into skipping open bidding in favor of—you guessed it—Boeing. Read more at AviationWeek: Pentagon Wanted Sole Source Search, Rescue.



Boeing to slash 10,000 jobs this year

Hold the phone, Jim. There may be some good news on the way.



Trains, buses lag far behind airlines on security

More than 75 percent of rail and bus systems fail to meet Homeland Security guidelines. New DHS chief Janet Napolitano will have us taking our shoes off on the Amtrak platform soon. Daily Reminder: Don't forget to be afraid.
And that's it for today. More juicy inside stuff about the M-I C tomorrow.