Feb 10, 2009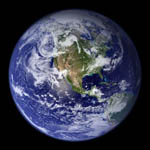 Myth: we have to save the earth. Frankly, the earth doesn't need to be saved. Nature doesn't give a hoot if human beings are here or not. The planet has survived cataclysmic and catastrophic changes for millions upon millions of years. Over that time, it is widely believed, 99 percent of all species have come and gone while the planet has remained. Saving the environment is really about saving our environment—making it safe for ourselves, our children, and the world as we know it. If more people saw the issue as one of saving themselves, we would probably see increased motivation and commitment to actually do so.
—Robert M. Lilienfeld, management consultant and author (b. 1953), and William L. Rathje, archaeologist and author (b. 1945).
This self-evident reminder is apparently not so self-evident to many. Or perhaps the real problem lies in perspective. We live our individual lives in the short term, whereas the life of our species is lived in the long term. And what satisfies exigent needs is often—possibly even usually—harmful in the long run.
The first farmers who planted a crop certainly found it preferable to going after a sabre-tooth tiger with a sharp stick for their dinner. Little did they know that introducing agriculture would lead to overpopulation, green revolutions, and factory farms that led to more overpopulation, genetically modified seed that led to yet more overpopulation, until, facing, by midcentury, the prospect of 9 billion human souls sharing a fragile planet with a rapidly diminishing host of fellow creatures, things began to seriously fall apart.
Understanding the ramifications of the long term should help us adjust our actions for the short term. And this will bring us to the understanding that our self-interest lies in maximizing the well-being of all human beings who share this overburdened globe with us.
Improved circumstances lead to fewer children, and overpopulation remains the prime challenge which the human species must overcome, and one which by itself is responsible for most of the other crises we face. Now that the western world has conquered the basics—clean water, safe food, decent education and health care, and a consensus on the need for a sustainable economy—it is time to extend these benefits worldwide, for the sake of our own survival.
If we focus only on our individual short-term well-being, we will fail to acknowledge the gathering tsunami of ignorance and want which in time will overwhelm us.