Feb 24, 2009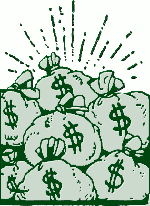 We have recently noted with some despair the unfortunate tendency of state governors to jump at layoffs as the first, and too often only, remedy for budget problems.1 A recent report from the Pew Center on the States entitled Trade-Off Time: How Four States Continue to Deliver, shows that some states are applying far more savvy methods in order to get more bang from the taxpayer's buck and to minimize layoffs and tax increases.

The featured states—Indiana, Maryland, Utah, and Virginia— are leading the nation in what would seem to be common sense methods of measuring the performances of government programs and using those measurements to determine where to concentrate their resources. As the man said, common sense isn't all that common, especially in politics. Other states and, for that matter, families fretting over their own budget challenges, can take a lesson from the solid results these states have attained through careful evaluation of their programs:
"[T]he Virginia Department of Corrections replaced private food service contracts at several prisons when data showed that the services could be provided more cheaply in-house for a total annual savings of $851,000." (So much for the wonders of privatization.)
With a far-seeing eye toward future crime and social service costs, Virginia also determined the cost-effectiveness of investing in prekindergarten.
Utah requires new programs to have measurable goals to gauge progress, and when those goals are not met, the program is killed or altered. A $300,000 program to help businesses recruit new employees was radically cut and retargeted when it failed to show measurable success.
Utah Governor Jon Huntsman challenged agencies to cut energy use 20 percent by 2015. The ensuing change to a four-day week with 10-hour days is expected to save the state $3 million in energy costs and save the employees $6 million in commuting expenses.
In Maryland, a statistical management system in Baltimore that generated $350 million in savings and won an Innovations on American Government Award from Harvard, has been expanded to the state level. Among other advantages, the state saved $1.5 million by closing an under-capacity juvenile justice detention center and transferring part of the funds to more effective community-based programs.
Indiana Governor Mitch Daniels, a former director of the U.S. Office of Management and Budget, has created a state-level version of the OMB that requires measurable goals from all government departments. Child services received additional funding when studies indicated the funds would lower instances of child abuse and neglect, and those goals are being carefully monitored. Other programs costing $1.5 million were cut because they did not provide explicit, measurable goals.
Not every government service is easily reducible to statistically measurable goals. Some, for instance the benefit of state subsidization of local libraries, is difficult to quantify, until such subsidies stop and local libraries cut staff, services, collections, and hours. Sometimes simple maintenance of the status quo is a measurable and desirable goal.
Nevertheless the idea of measuring the "Return on Investment" is a necessary and valuable one when contemplating any expenditure—federal, state, local, or around the kitchen table. Try it before your next discretionary purchase. If you can't quantify the benefit, or, in the case of a jelly donut there is a negative benefit involved, maybe you will want to think twice about it.
____________________
1
The Golden Rule, Explained