Feb 27, 2009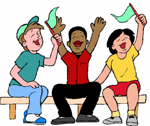 After a week of pretty bleak entries, we are delighted to end it with one that inspires pure joy, at least tentatively.

Accountability Now PAC (Political Action Committee) has just come under our radar, thanks to Twitter and a story in yesterday's New York Times, "Bloggers and Unions Join Forces to Push Democrats."1 Even the staid Times was scarcely able to hide its enthusiasm in an article that almost reads as a call to arms: A large and growing coalition of progressive voices are teaming up for a full court press on Congress. They will seek to identify and support candidates who are to the left of centrist Democrats and may eventually target Republican primary contests as well. The players so far, as reported in the Times and on the Accountability Now web site:
The movement, at least on paper, is just what we have been waiting for (and writing about over the past couple of weeks): a cooperative venture among the widespread grassroots, Internet-based, political progressive movements around the country, aimed at supporting candidates for Congress who will move the country toward a humane, people-based, and equitable democracy. Well, Hallelujah!
We encourage you to sign up with them on their site. We will be keeping a close eye on them and will hope to be reporting back about the good work they are doing. We will also hope to see other Internet-based progressive groups (TrueMajority, etc.) join forces with them.
We can do this together, and only together. We can halt the military/corporatocracy that has dominated our country since the Vietnam War. We can retrieve our standing in the suffering world and help it toward a peaceful, prosperous, and democratic future.
In his speech on Tuesday evening, Obama focused on three vital issues we need to address: energy, health care, and education. This is our agenda, and to reach it, we are going to need to elect more progressive candidates to Congress, candidates who are not beholden to those corporate and special interests whose agendas are diametrically opposed to Obama's.
So go on the Accountability site and get on the bandwagon. We have the right man at the top. Now we need to build the base, and it seems to us this group may have a shot at leading the way.
____________________
1
Bloggers and Unions Join Forces to Push Democrats,
by Jim Rutenberg, from the New York Times, Feb 26, 2009, accessed Feb 26, 2009
2
Union Leaders Accuse Stern of Scheming for Control of America's Only Union-Owned Commercial Bank,
from Democracy Now, Feb 20, 2009, accessed Feb 26, 2009