News
Noted With Interest, February 2009
Mar 02, 2009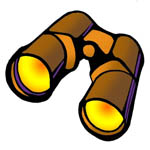 Sign up for weekly email updates on key votes of your congressional delegation. Includes links to send email to them using pre-addressed forms, and news of upcoming votes for review. From Roll Call at Congress.org. Accessed Jan 31, 2009.


Cool and useful guide to science. From The University of California at Berkeley. Accessed Jan 31, 2009.


Number 1? A $388 million judgment against the IRS. Gotcha! (Of course, we're going to end up paying it.) From LawyersUSA. Accessed Jan 31, 2009.


A great reference tool, showing regional trade agreements in force and proposed around the world, including texts of the agreements. From the World Trade Organization. Accessed Jan 31, 2009.


Blogger Alert: Good information on getting hold of public records. From Knight Citizen News Network. Accessed Jan 31, 2009.



NOTICE: Links are always provided.

Every All Together Now item that discusses a document, a web site, a podcast, or other digital resource contains a link to that resource. On some systems that link might not be as apparent as it could be. For instance, here is an item from last month's "Noted with Interest":


Two great voices started off the year on Democracy Now last month: On January 1, Amy Goodman re-ran her 2004 interview of Utah Philips, folk musician and activist, who died in 2008. The next day, DN showed activist and historian Howard Zinn speaking at Binghamton University a few days after the November election. View, listen to, or read, but don't miss these inspiring talks.

Notice that "Utah Philips, folk musician and activist" and "activist and historian Howard Zinn" are in a slightly different font from the rest of the text. Click inside either phrase and you will go to the Democracy Now page that contains both the podcast for that show, which you can view and listen to on your computer, and the printed transcript of the interview. If you right-click the link, you are given the opportunity to open the link in a new Window or Tab, keeping All Together Now viewable in its window.


Yes, you can do it from home! Find out how. From ServiceLeader.org. Accessed Feb 10, 2009.


Our friend, D.B. Johnson, is the author of a series of picturebooks about a bear named Henry. They are based on the writings of Henry David Thoreau. The first one, Henry Hikes to Fitchburg, was a bestseller. We think his latest one, Henry's Night, will be one, too. It has already received a starred review from an early reviewer. View the video trailer the author created and see if you agree. Accessed Feb 12, 2009.


There's money in the stimulus package for greening up your home. This site tells you how. Accessed Feb 17, 2009.


"…Treasury paid substantially more for the assets it purchased under the TARP than their then-current value." From Congressional Oversight Panel, Feb 6, 2009. Accessed Feb 21, 2009.



Books Books Books

Below is a list of books that have come to our notice over the past month. All are recommended for anyone who wants to find out the truth behind all the misinformation, disinformation, and lies we are asked to swallow every day. The links will take you to the Amazon.com page for each book.
Mark Schapiro, Exposed: The Toxic Chemistry of Everyday Products and What's at Stake for American Power (2009)
Nomi Prins, Other People's Money: The Corporate Mugging of America (2004)
Nomi Prins, Jacked: How Conservatives Are Picking Your Pocket (2006)
Nomi Prins, It Takes a Pillage (upcoming in 2009)
Paul Fitzgerald and Elizabeth Gould, Invisible History: Afghanistan's Untold Story (2009)
Jane Mayer, The Dark Side: The Inside Story of How The War on Terror Turned into a War on American Ideals (2008)
Dedrick Muhammad, State of the Dream 2009: The Silent Depression (2009)
Alison Des Forges, Leave None to Tell the Story: Genocide in Rwanda (1999)
Conor Foley, The Thin Blue Line: How Humanitarianism Went to War (2008)
Avraham Burg, The Holocaust Is Over: We Must Rise from its Ashes (2008)
Harry Lewis, Blown to Bits: Your Life, Liberty, and Happiness After the Digital Explosion (2008)
Jimmy Carter, We Can Have Peace in the Holy Land: A Plan That Will Work (2009)
Neve Gordon, Israel's Occupation (2008)
James Galbraith, The Predator State: How Conservatives Abandoned the Free Market and Why Liberals Should Too (2008)
Pratap Chatterjee, Halliburton's Army: How a Well-Connected Texas Oil Company Revolutionized the Way America Makes War
P.W. Singer, Wired for War: The Robotics Revolution and Conflict in the 21st Century (2009)