News
Noted With Interest, March 2009
Apr 02, 2009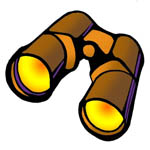 Cellist Stjepan Hauser plays a really lovely adaptation of Dvorak's Song of the Moon on YouTube. Hat tip to EF. Accessed Mar 8, 2009.


All right, we want to look forward, like Obama. But historians need these reminders of the enormities of the Bush administration, especially when they are presented in such a comprehensive manner. From The Center for Public Integrity. Accessed Mar 8, 2009.


An excellent column by Bob Herbert that came out the day after we wrote the item on the Employee Free Choice Act, and that speaks to the same concerns. From the New York Times, Mar 9, 2009. Accessed Mar 10, 2009.


Birds are bellwethers of our nation's environmental health, and the news is not good from this first-ever comprehensive report. Accessed Mar 21, 2009.


"But unless we grasp the 'societal play of forces that operates beneath the surface of political forms' we will be cursed with a more ruthless form of corporate power, one that does away with artifice and the seduction of a consumer society and instead wields power through naked repression...." By Chris Hedges, Mar 23, 2009. From Truthdig.com. Accessed Mar 26, 2009.


This report will help other states tread the perilous path to public-private partnerships. From The Pew Charitable Trusts. Accessed Mar 27, 2009.



Senator Cardin [D-MD] Introduces Bill that Would Allow American Newspapers to Operate as Non-Profits

An idea worth supporting? Could be. Non-profit newspapers could not make political endorsements, but otherwise would operate much as they do today. Advertising and subscription revenue would not be taxed, and contributions would be tax deductible. From Sen. Cardin's web site. Accessed Mar 27, 2009.



Books Books Books

Below is a list of books that have come to our notice over the past month. All are recommended reading. The links take you to the Amazon.com page for each book.