Apr 03, 2009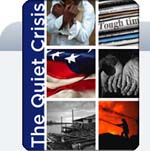 The nonprofit sector of the economy constitutes 11 percent of the workforce, more than the auto and financial industries combined. They are suffering a triple whammy in the present downturn: less foundation and individual giving; diminished support from states and localities that are themselves feeling the pinch; and dramatically increased demand from the populations they serve.

In The Quiet Crisis: The Impact of the Economic Downturn on the Nonprofit Sector (.pdf, 2.6Mb, 22 pages), a joint report by Civic Enterprises and the Democratic Leadership Council, the parameters of the problem are made starkly evident:
Churches saw a decrease of $3 to $5 billion in expected giving in the third quarter of 2008.
United Way saw an increase of 60 percent in the calls for basic services in 2008.
Chicago is trimming its Meals on Wheels budget by more than a third.
Arizona saw an increase of over 100 percent in the number of people who sought social services from 2007 to 2008.
Michigan suffered simultaneous increase in demand by 70 percent of its nonprofits while 50 percent say their financial support has declined.
The report makes four general recommendations:
Pass the Serve America Act, a $5.7 billion program that will increase the number of AmeriCorps volunteers from 75,000 to 250,000. The Senate passed their version of this bill last week.
Adopt a handful of tax incentives that will expand private giving and volunteering.
Establish a fund that would produce programs to improve nonprofit management and develop new ideas and pilot programs to improve existing systems.
Give nonprofit housing and financial institutions a prominent role in solving the nation's massive mortgage and foreclosure problems.
Should this recession continue to worsen, look for massive layoffs in the nonprofit sector, with a resultant dropoff of assistance to those who need it most. It is incumbent upon those of us still employed to do what we can to bolster this segment of society. As it falters, so will we be called upon in a variety of unpleasant ways to absorb the consequences.