Apr 06, 2009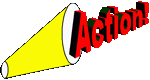 Those who profess to love freedom, yet deprecate agitation, are those who want crops without plowing. This struggle may be a moral one, or it may be physical, but it must be a struggle. Power concedes nothing without demand. It never did, and it never will.
—Frederick Douglass, 1857
Follow us on
Twitter.com
for early notice of these Action Items, and click the Aux Barricades! tag in the left-hand column to display earlier Action Items. Send your Action Items to us and we will add them to this list.
Apr 28, 2009: Signed a Human Rights First petition to Obama, urging him to appoint a nonpartisan commission to investigate illegal acts of torture during the Bush administration and turn its findings over to the Justice Department for prosecution. You can sign HERE.


Apr 28, 2009: Donated a few tax-deductible dollars to Food&WaterWatch.


Apr 28, 2009 Signed a Credo petition to the Interior and Commerce secretaries, asking them to overturn Bush-era regulations that decimated protection for over 1,300 species. The deadline is May 9, and you can sign HERE.


Apr 28, 2009: Signed a Sierra Club petition to the EPA, urging them to take substantive action to regulate greenhouse gases and reverse global warming. You can sign HERE.


Apr 26, 2009: It's Roxana Saberi's birthday. Follow her struggle HERE. Join your voice and let the world know we are watching.


Apr 23, 2009: Signed a Food&WaterWatch petition to congress asking them not to force genetically engineered crops on countries and farmers that don't want them. The Union of Concerned Scientists have recently found that these crops have not increased the yield of American corn and soybean farmers. You can sign HERE.


Apr 23, 2009: Signed a Credo petition to Chevron asking them to fire their general counsel, William Haynes, former Gen Counsel for the Pentagon, who was among the authors of the torture memos. You can sign HERE.


Owing to a very stupid slip of the keyboard, April's Action Items, through the 22nd, have been lost. If you follow us on Twitter, you can see some of them.