Apr 23, 2009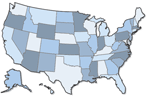 The Internet offers a good assortment of tools to keep up to date on federal political matters. Thomas, a service of the Library of Congress, has the halls (and shenanigans) of the U.S. House and Senate pretty well covered from an official point of view, and we like Joshua Tauberer's Govtrack.us, for the unofficial view. Joshua's site provides many tools to help us understand and keep up to date on pending and enacted legislation at the federal level. It will track bills, legislators, and other congressional matters you are interested in, emailing you updates as they occur.

However, if "all politics is local," as Tip O'Neill maintained, then we need to keep as close an eye on our state reps as we do the boys and girls in D.C. Until recently, that wasn't so easy to do. Now, a new start-up called the Fifty State Project is putting together what looks like an excellent resource for tracking state legislatures. Their goals:
Collect URLs of state legislature and legislative information pages
Obtain data for legislation in each of the 50 states
Grab legislation, creating the sponsor relationship between legislator and legislation
Grab legislator votes on all legislation
Build tools on top of the data to allow slicing and dicing for purposes of data processing
Though in its infancy, the Project already has links to most state legislation pages found at the above link, and a project status report blog which you can find
HERE.
It only took us five clicks to go from the link above to an account of
the Vermont State Senate vote
(23 to 5) to override our grim governor's veto of S.115, the act relating to civil marriage.
The project is managed by
The Sunlight Foundation,
a non-partisan non-profit dedicated to using the power of the Internet to catalyze greater government openness and transparency.
And kudos to them.