News
Noted With Interest, May 2009
May 23, 2009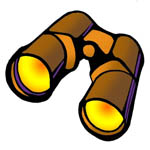 Mad at Madoff? Check out this mashup map of Bernie Madoff victims around the country. Maybe even find yourself out there. We are proud to see he only stuck it to five Vermonters. You can't cheat an honest man. Accessed May 27, 2009


This is the sort of thing we, as a nation, can no longer object to, given our support for unlimited detention, suspended due process, and torture. Human Rights Watch, May 23, 2009. Accessed May 24, 2009


Find out how your senators voted on the amendment to the credit card bill—which passed!—that allows loaded assault weapons into national parks. From U.S. Senate. Accessed May 22, 2009.


And do the same for your representative. From The Clerk of the House of Representatives. Accessed May 22, 2009.


And if you do or don't like the way they voted, go to this handy resource put together by the National Parks Conservation Association to find and write them. Do it! It matters! From National Parks Conservation Association. Accessed May 22, 2009.


Perhaps reality is two times more dire than predicted even six years ago. From R&D Daily. Accessed May 21, 2009.


Words of wisdom and warning regarding our official policies on torture, from one of America's pre-eminent thinkers. Wake up, America, before they come for you. Read this piece! With a hat tip to EF. From Salon.com. Accessed May 21, 2009.


Tennessee takes the lead, in this state website that is attempting to be a model of governmental transparency. Any thoughts from down that way? Accessed May 6, 2009.



This Is What Drives Us Nuts!

Two days after Defense Secretary Gates says we have enough C-17s for ten years, another Democratic voice, this one House Appropriations Committee Chair David Obey (D-WI), says he is putting $2.2 billion more into the budget to buy C-17s! Where does it end?! Accessed May 6, 2009.


The NYTimes calls them the Oscars for the Web. These cutting-edge sites are incredibly impressive. From The Webby Awards. Accessed May 6, 2009.


By Jeannette Wicks-Lim, from the Political Economy Research Institute (PERI), undated. Yes, we should! Wicks-Lim offers many of the arguments we summarized in Poor and Poorer. Accessed May 3, 2009.


This Internet startup provides two- to three-minute videos on breaking news, with a credible effort at providing a balanced perspective. And can you resist falling for the lovely new Internet star Charlotte Bellus? G'day, Darlin'! Accessed May 2, 2009.


By Bob Herbert, from the New York Times, Apr 27, 2009. We've said it all too often here on ATN: Jobs, not bailouts. Herbert agrees in this fine and heartfelt column. Accessed May 1, 2009.


By Robert Scheer, from truthdig.com, Apr 28, 2009. From Tim Geithner's lunch dates to the growing numbers of erstwhile middle class falling into poverty, no one can wonder where Robert Scheer's outrage is. Accessed May 1, 2009.



Books Books Books

Below is a list of books that have come to our notice recently (we'll be adding to this list throughout the month). All are recommended reading. The links take you to the Amazon.com page for each book.