Oct 18, 2011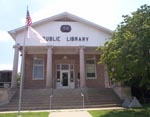 I am a library manager, a convert to the eBook format, and very worried. Although speculation regarding the collapse of public libraries has been in the infosphere since the advent of the internet, the public library's continued existence has never been more uncertain than it is today.

First, consider that in the face of growing demand, libraries around the nation are cutting back on new acquisitions, hours, and staffing. In tough economic times, public libraries, which are almost always primarily funded at the local level, are easy targets for cost cutting, and they are being targeted practically everywhere.

And then consider the advent of eBooks, which are exploding in popularity. Amazon sells more of them than they do hardcovers and paperbacks combined. There are four good reasons why eBooks will marginalize, if not eliminate, the paper-based book within a few years:
Portability. You can access an unlimited number of books on one reader.
Economics. For the publisher, the economics are irresistible—no trees to cut down, paper to manufacture, type to set, or books to print, bind, store, and distribute by truck, train, and plane to the four corners of the world. In time, those irresistible economics will filter down to the buyer of books in the form of greatly reduced prices, at which point Amazon's eBook sales will go through the roof.
Value Added. You can index, search, cut-and-paste, bookmark, and annotate eBooks. You can embed audio and video and Internet links in them. In time, eBooks will add values and features we aren't even dreaming about today.
Access. For the first time in history, you don't have to go to the book. All you have to do is want it and, in a few seconds, anywhere in the world, the book comes to you.
Eighty-two percent of American public libraries offer their patrons eBooks, most of them through Overdrive's online service. So what is the problem? The problem is content. There isn't any. Too few books are available in the eBook format. Too few of those that are available are purchased by public libraries, typically through statewide consortia that share a central collection of eBooks among many libraries. And too few of the purchased titles are available for checking out. The checkout model itself is fatally flawed, where one purchased copy checks out to one library patron at a time for two weeks, just like a paper-based copy. Most titles in my state's consortium have long waiting lists and a recent check of 50 books I have on my "To Read" list found exactly none of them available in my library's eBook catalog.
And finally, consider Amazon.com. If they are successful in their current effort to get publishers to allow them to loan eBooks through their Amazon Prime service, the single most important motivation for supporting public libraries, at least to middle-class readers like myself, will vanish overnight. I will continue to vote for municipal taxes to support our public library, because I understand the vital importance of public libraries to a democracy. However, millions will not, and libraries from coast to coast will begin closing their doors.
I do not believe I am being an alarmist. We are in a political climate where public services are being privatized, downsized, or eliminated at a rapid rate. And if libraries cannot begin to serve their patrons' eBook reading needs—and they don't come close to doing so today—and an Amazon or other commercial endeavor steps in to fill that need, libraries are finished.
In my next posting, I will discuss how public libraries—and, for that matter, traditional publishers (their existence also being threatened by the internet)—can not only survive but flourish to a greater extent that they ever have, in this brave new eBook-dominated world.