Apr 29, 2009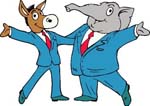 The Sunlight Foundation is a non-profit, non-partisan organization with the mission of using the Internet to make information about Congress and the federal government more meaningfully accessible to us. See Party Time and Fifty-State Project. Follow them on Twitter.

They have just awarded prizes in their first Apps for American Government Mashup Contest and the winners are pretty cool. (A "mashup," by the way, is a procedure that combines web-based resources to provide additional, new, or value-added services.)
Filibusters are the bugaboo of the current Senate, since 60 votes are required to impose a time limit on a debate (cloture) and get on with the vote, and the forces mostly favoring Obama's agenda currently have only 58 votes, 59 if Al Franken ever gets seated. This site aggregates information from GovTrack.us and Sunlight Labs, another service of the Sunlight Foundation, to bring us news of fresh filibustering, naming the senators who are bottlenecking legislation. Visit the site for updates and to read their blog or, more conveniently, follow them on Twitter.


This project was created specially for the contest by Forum One Communications, and aggregates data from Twitter, YouTube, Capitol Words (another Sunlight Foundation project), and hundreds of news sources. Click a button to see the latest Tweets and uploaded YouTube videos generated by U.S. legislators, or news items regarding them. Set up your own ""Stalk List" to zero in on the legislators you want to follow.


A somewhat bewildering site, ostensibly created to serve congressional delegations. Each senator and representative has their own page where they and their staff can request research, search a briefing room of over 2000 documents and talking points, and track the priorities of their constituents. Constituents, meanwhile, sign up at something called White House 2, where they can endorse or oppose various policies. Their positions are then aggregated for their legislators on the legislators' Hello, Congress, pages. Clever! And some interesting numbers, which lead one to believe the site has been peopled, so far, by the usual suspects: hotheads and ideologues. If the general public eventually embrace it, it could become a useful tool for our legislators.


Get web savvy fast and impress your friends. KTC is an implementation of bookmarklets, handy little bits of code that can automate all sorts of things inside your Web browser. The KTC bookmarklet will look up useful information regarding legislators when you come across their name on a web page. Simply highlight the name, click the KTC bookmarklet (which the site will show you how to easily install), and voilá, you will see a handy insert providing a raft of useful and juicy data on the legislator (including their primary donors). Use it with some regularity, and you will find yourself learning a lot about our gang in Washington.


Whereas KTC was a snap to install (a quick drag-and-drop), Yeas and Nays, a mashup that allows you to call one of your congressional representatives from any web page, requires a bit more dedication. You need the Firefox browser (definitely worth the switch from Internet Explorer), then you will install Greasemonkey, a Firefox add-in that allows you to run what are called user scripts, one of which is Yeas and Nays from ShiftSpace. The Yeas and Nays link takes you through these steps quite painlessly. Once installed, the little applet allows you to call your congressional rep from any web page (as well as providing a number of other web page add-on capabilities), provides talking points to help you express your opinion regarding the issue at hand, and, at your option, will record your call and make it available to other visitors to that page (who have ShiftSpace installed). Web Two Point Wow!


Subtitled "Watch over your representatives," e-Paper Trail provides a three-way look at Congressional activity. "Bills and Resolutions" graphically displays Democratic/Republican splits on recent House and Senate votes, and shows how your representatives and senators voted. "From the Floor" provides recent statements/speeches presented by your congressional representatives. "Head to Head" compares the voting history of any two House members of your choice. Text alerts are available for your mobile phone. These old eyes wonder, however, why the designers of this web site decided on such light, thin headline and body text.
These mashups illustrate how far and how fast Internet web site development is progressing. Combined, they provide quick and timely access to the D.C. goings-on that so vitally affect our interests. Kudos to Sunlight Foundation for sponsoring this contest, and to all the participants.