Apr 30, 2009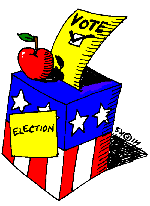 The Federal Election Commission (FEC) has reminded us, exhausted as we all may be from a two-year campaign that seems to have ended only yesterday, that we are indeed in another—indeed always in another—election cycle. The convenient maps they have provided at their web site provide a reminder—as if we needed one—of what this 2009-2010 campaign is really about. (Hint: The same as the last one.) The amount in parentheses is the cash on hand in the candidate's campaign war chest as of Mar 31, 2009.
Peter Welch (House D-VT) ($599,252)1

Peter ran for his first re-election to the House in 2008, unopposed in the primary, and with no Republican on the ballot.



Patrick Leahy (Senate D-VT) ($1,694,964)2

Leahy will almost certainly run for his seventh term in the Senate with no credible opposition.



Elizabeth Kirsten Gillibrand (Senate D-NY) ($2,202,825)

Gillibrand was only recently named to the Senate to fill Hillary Clinton's seat.



Barbara Boxer (Senate D-CA) ($4,622,086)3

Well, it's a big state, and Boxer has three opponents who together have amassed a whopping $48,279. Can you say "incumbent advantage"?



Senate Dems and Reps together ($38,184,318)




House Dems and Reps together ($63,384,619)
So there is over $100 million in war chests already for an off-year election, 581 days from Election Day. Recall that the overwhelming majority of campaign financing comes from lobbyists and special interests and only 10 percent from contributions under $200.
4
That great bookmarklet discussed yesterday, Know Thy Congressman,
5
provides the top 10 contributing groups and the top 10 contributing institutions for all sitting senators and representatives. There, you will find an unending parade of lawyers and law firms, real estate interests, securities and investment houses, lobbyists, and "health professionals."
Is there any hope for progressive change, when this kind of money supports the status quo?
____________________
1
Peter Welch,
from OpenCongress.org, accessed Apr 27, 2009.
2
Patrick Leahy,
from OpenCongress.org, accessed Apr 27, 2009.
3
Barbara Boxer,
from OpenCongress.org, accessed Apr 27, 2009.
4
The First Step,
ATN, November 28, 2008.
5
Political Hacks,
ATN, Apr 29, 2009.